Hello hello!! Can you believe January is already up and gone? It feels like it was barely even here. Time is speeding up, I swear.
Well, since it officially February, I thought I'd get on the Valentines (or as we say, Valentimes) Day bandwagon and turn up the love factor a bit around here.
Kid friendly of course.
Since this is a family blog and all.  ;)
First, I'll tackle the house.
Today I hung the 2-in-1 Valentine wreath I made last year on our front door. It was originally a placemat from Pier 1 that I got for like 2 bucks, and I just added a ribbon with hot glue. Check out this post to see it turn into a second (yeah, two for the price of one!) Valentine craft.
Hanging the wreath actually made me feel a little more loving. Hm. Who knew?  :)
Now, although I already have a wreath, I came across two OH SO CAAAUTE! wreaths online. Both seem fairly simple (as well as therapeutic) to make. I'm pretty sure that, besides a quick stop at the dollar store for the Styrofoam wreath, I have most of the supplies to make one of these in my craft box. I'm sure I could find a place for either one in my house.
Love the colors of this fun wreath made from yarn and felt.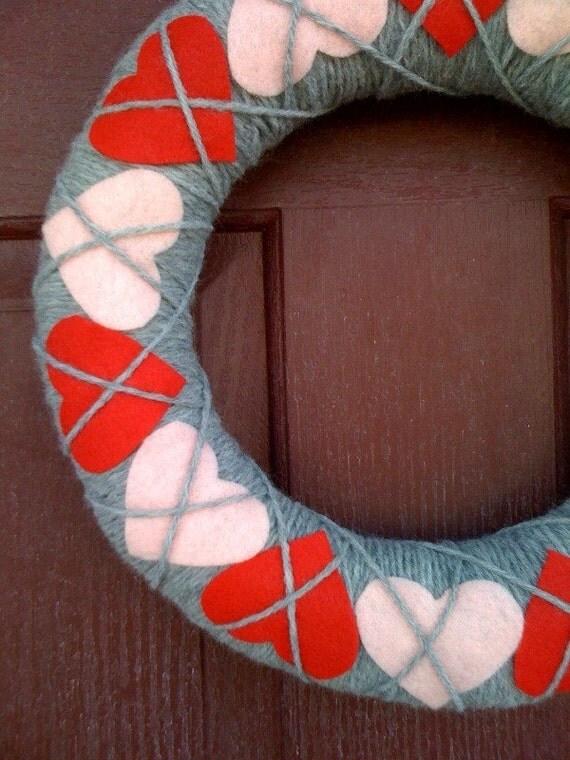 At first glance, to me this pretty heart-shaped wreath looks like it's made from tissue paper. I have plenty of red paper from Christmas (anyone else save everyone's bows and tissue and bags? I swear I haven't bought that stuff in years.) After taking a look, though, I realized it's actually made from red material. Hmm. Okay, I'll either use some scrap fabric I have in my stash, or I'll check my Goodwill donation box for a red shirt to cut up.
As far as other decor goes, I like simple. I don't want my house to scream, "We interrupt this home with an important announcement: The next holiday is…….!!!!!!"
I love this subtle (read Not in your face…) reminder of the upcoming holiday while still bringing in a little greenery to a space.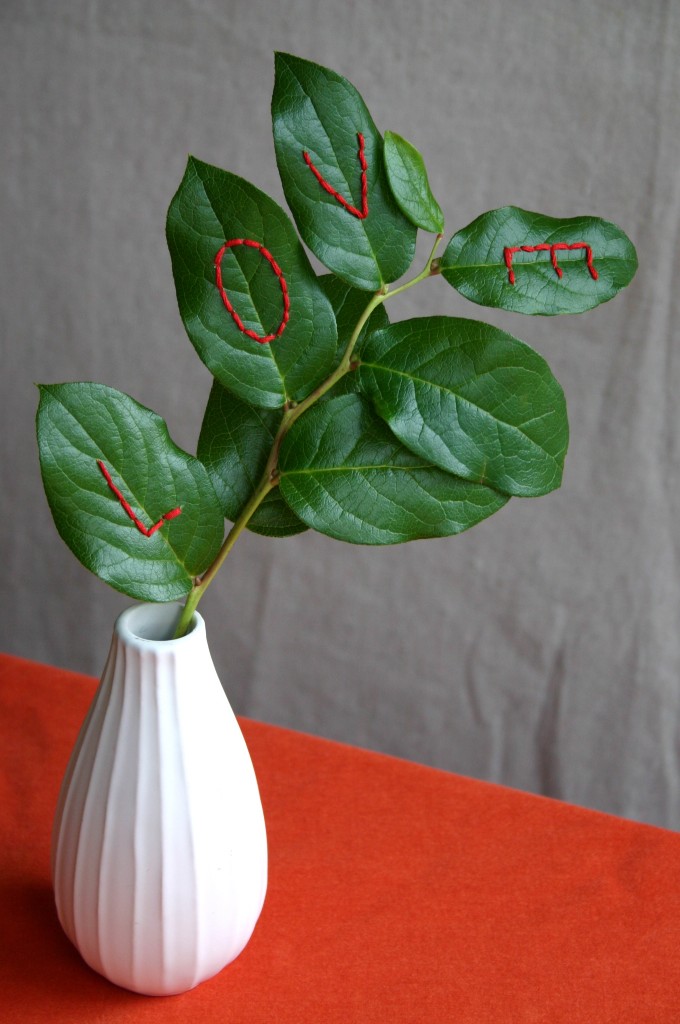 Flowers and VDay are pretty much one in the same. They could just call Valentine's Day it's lesser known name, National Give Flowers to Someone You Love Day. (I'm sure I read on Wikipedia that it used to be called that, but it was too long to say so they shortened it.) I think adding colored candy (jelly beans, red hots, or even conversation hearts) to a clear vase gives an unexpected (and inexpensive) twist to a beautiful bouquet.
I love the idea of adding an inspiring quote about love somewhere throughout the house. Instead of framing it in a standard issue picture frame, it looks so much more beautiful placed inside a pretty mirror or clock.
Now on to gifts…
I'm not really one to go all out and make super cutesy Valentine cards for every kid in Pickle's class. I usually let him pick out his favorite set of cards at Target. BUT…the boy is such a fan of lollipops, and these mustache/lip lollipops are so freakin' cute, I think we might just make these instead this year. "I "mustache" you to be my Valentine…" or something like that.  ;)
When it comes to VDay, sometimes I think gifts are often hard to figure out. Especially with guys. I feel like he gives me something he wants, and I give him something I'd ask for. Well, Hubs, if you are reading this, if my gift isn't a trip to Hawaii, then here are some cool, FREE ideas using stuff we already have around our house. (Yes, I'll help you look for them, and YES, I'll pretend I have no idea why you need the supplies.)
Heart-shaped, framed maps of places where we met, lived, or traveled...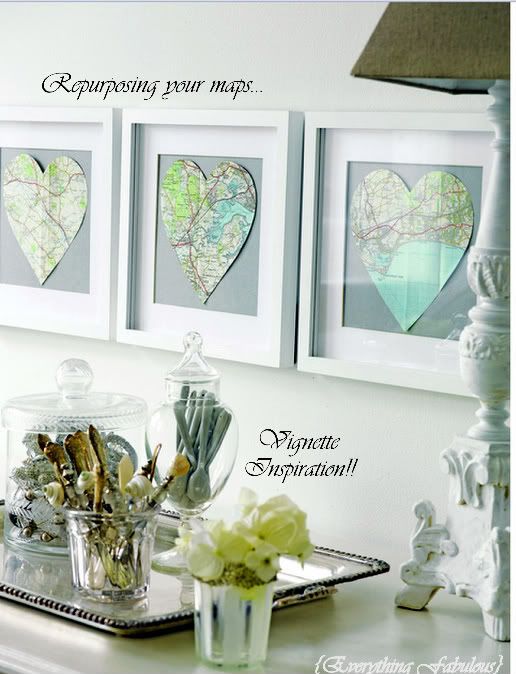 Little folded paper hearts, glued to a frame. 3D and cute!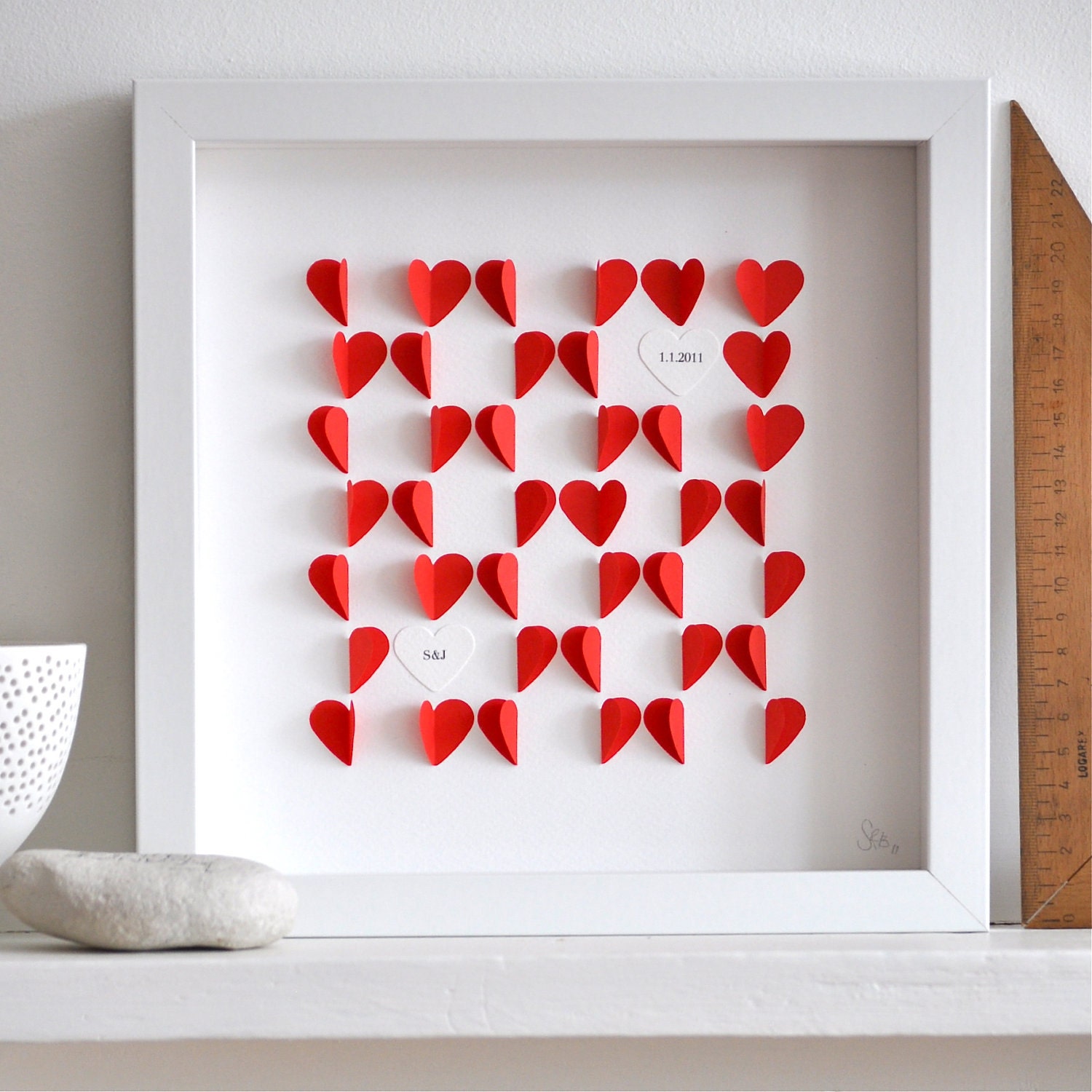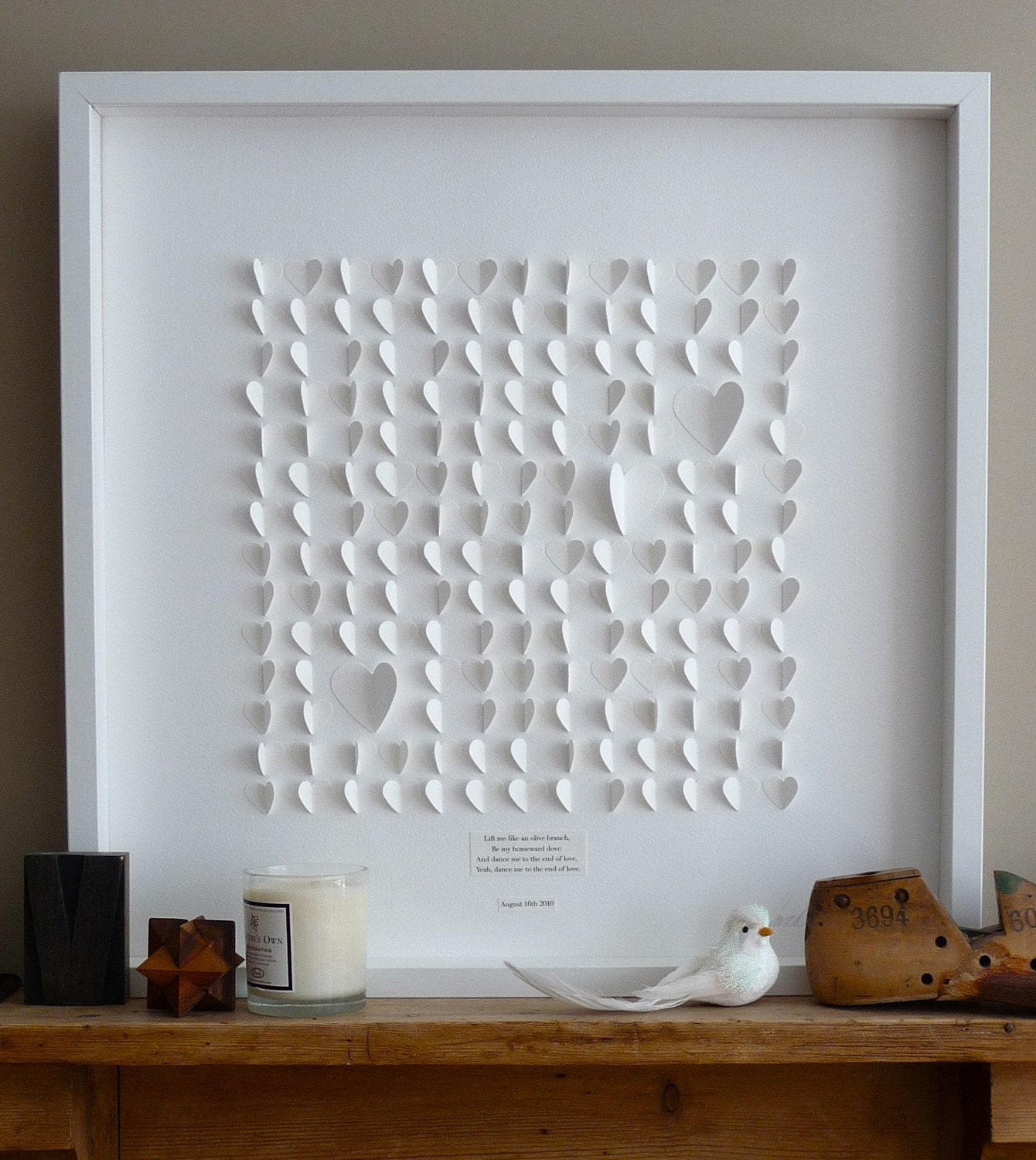 How about a sweet reminder of the kidlets? Buttons from their baby clothes are formed into a heart and framed for Mama to smile at everyday.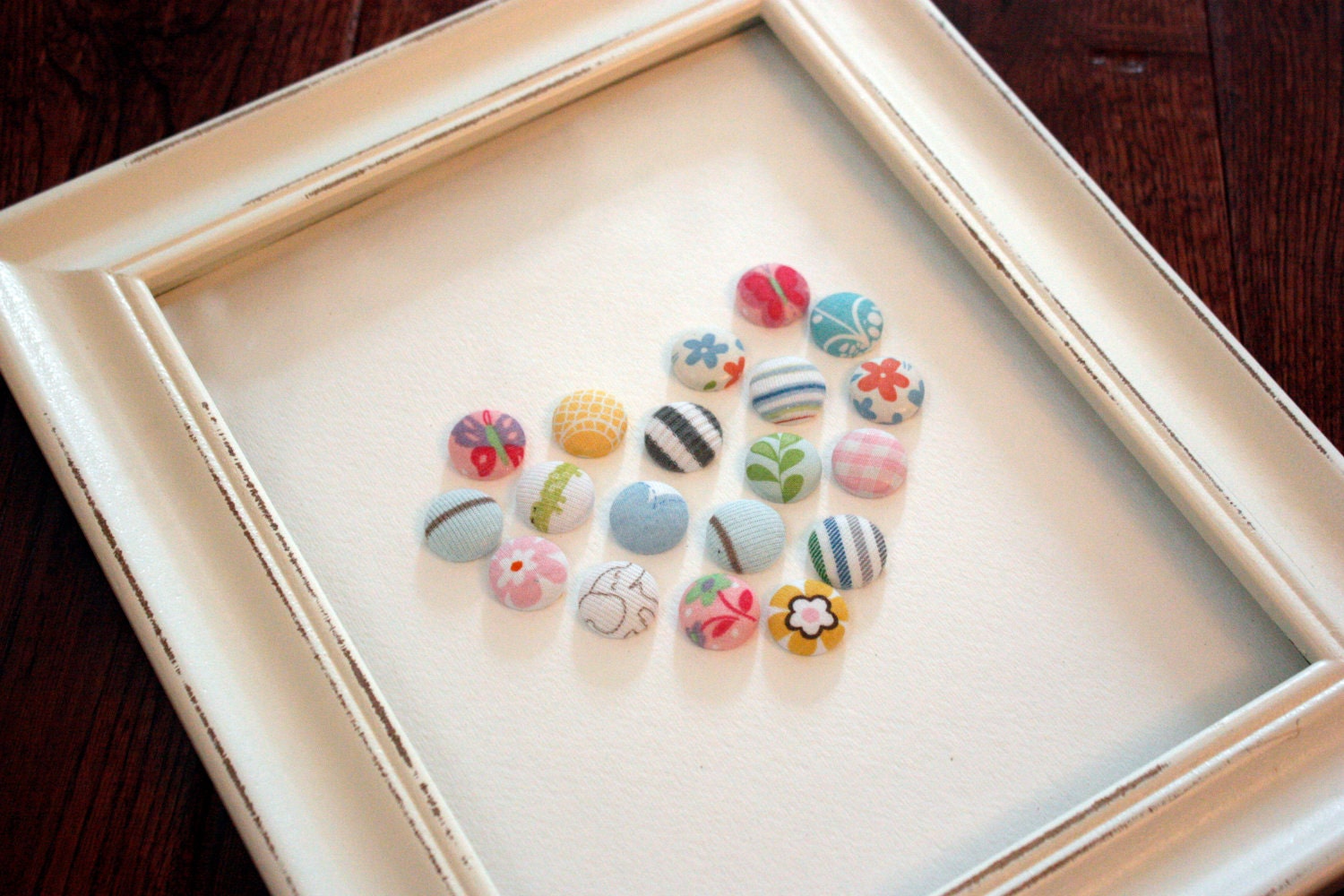 Feeding my cute peeps…
They say a way to a man's heart is through his stomach. And I live with 3 (well, two are men-in-training). So, it's always a good thing to start the day off right by reminding my guys that I love them…through food. Valentine cinnamon rolls (and maybe some pink milk?) might just do the trick.
Except…don't these remind you a little bit of the Grinch's hair?  ;)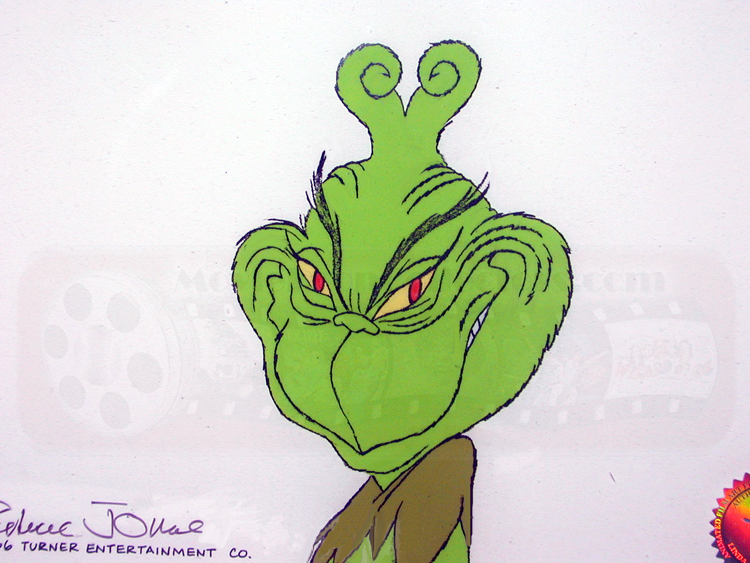 Pizza for dinner is always fun – especially when both the dough AND pepperoni reminds you of love.
(And maybe a little sprinkles and candle action to decorate the table?)

BHG
Dessert doesn't have to cost an arm and a leg. Instead of shelling out moolah for an expensive cookie cake, I'll make my own with premade cookie dough from the store. I'll shape the cookie into a heart on a metal pan and, when it cools, I'll decorate the cookie cake with frosting. Super easy, super yummy, super cheap.
So, cool! This "Valentimes" thing is up and rollin' around here. The only things that could be missing are some chocolate covered strawberries.
Better call The Hubs and tell him that's his department.  :)