Thank you all SO much for the great response to the Map Wall in the boys' room! I'm so glad y'all love it as much as I do! It really is so fun to go in and look at all the places in the world…many I've only ever dreamed about.
Things are coming along well in the room, but there are still a few changes I'd like to make. And today we're making some. In the form of bedding.
About 6 years ago I purchased the blue striped comforter on Pickle's bed from Target for $20. My mom loved it and bought one for my brother, too. We joked that someday, if I had two boys, my mom would give me the other one when my brother got tired of his. Little did I know then that I'd have two boys! J inherited the comforter when he grew out of his crib.
 They're cute and stripey, but sad and tired. It was time for new ones for sure.
Do you ever take a good look at one of your pin boards and realize you've subconsciously pinned the same idea over and over? Yeah, I totally do that. It's a sign of genius…or so I've read. (Not really. I just made that up.) One day I looked at my board "Boys' Room" and noticed I have a thing for wide stripes when it comes to boy bedding.
Like in this ridiculously cool boy's room:
Loving the wide stripe, the blue and orange combo, and the trunks at the end of the beds:
Oh, hey! Do you see the rope wrapped around the lamp in the picture above? Maybe that's were I got the idea for my desk legs. Hmm.
Wide navy stripes, super cool bunks. I Wish.
And, my ABSOLUTE favorite room in the group…
Wide, navy stripes. Trunk at the end of the bed. White headboard. Map wall.
(P.S. I cannot seem to find the original source for this one. Was it a West Elm or Pottery Barn pic? Anyone know?)
The navy and white stripes are my favorite color combo. And I like a burst of color, too. (This is a kid space after all, not a funeral home. Sheesh.) So I decided a splash of orange at the end of the boys' beds would be perfect…like this room: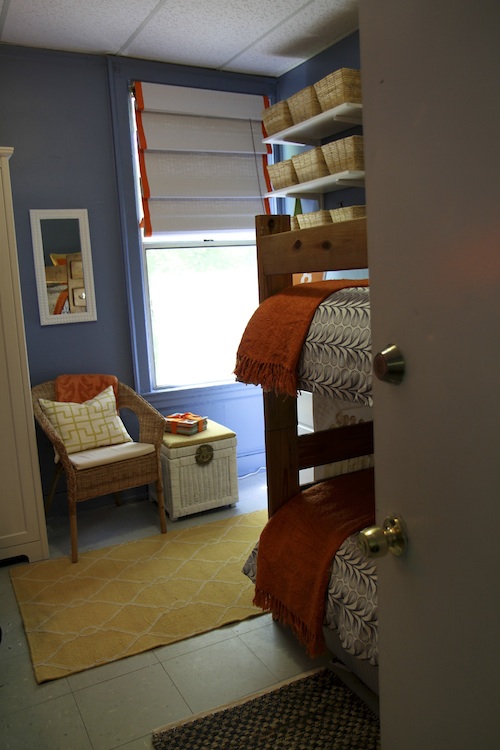 (Love the orange stripe on the roman shade, too!)
Then one day I was hangin' out at my friend, Allison's, house. She says, "Come upstairs and see the new bedding that I bought for my son." When I saw it, I about died. My stripes!! (And, yes, the hint of orange! Great minds think alike, right? Right?)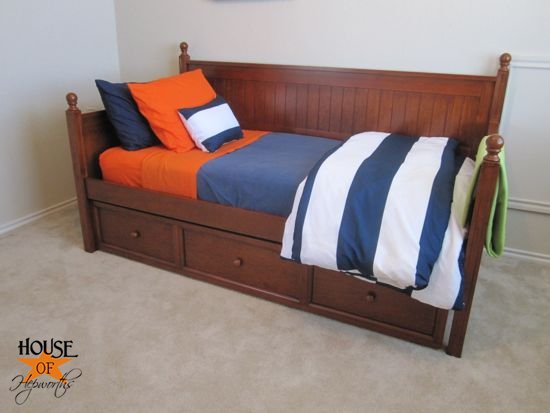 And the kicker? She bought the duvet at Target. For $20. And it comes with a sham. Seriously.
It was like the best freakin' deal I'd ever heard. After showing her my entire pin board of striped bedding so she knew I wasn't a huge stalker copycat, AND after making sure she didn't mind if I bought the same duvets for my boys' room, I went over to Target and grabbed two sets.
Thanks SO much for the heads up, Allison!!
I thought it would be a little easier to find an orange throw in this Texas Longhorn lovin' town (Hook 'Em!!), but it was a bit harder than I thought. Luckily my BFF and favorite store, Ikea, had a really nice two-toned orange quilt that also comes with two shams. (Find out more about the Karit bedspread HERE.)
It was easy to just cut the quilt in half and give each boy a new throw and a sham.
After a little duvet ironing, the boys' old comforters were just shoved into the new duvets. All the new pillow shams fit standard pillows, so I grabbed a few extras and stuffed them inside.
The boys' room is now on it's way to becoming one of my favorite places in the house.
I'm loving all the different shades of blue in here!
I would still like to add a headboard to each bed (instead of the one J has), as well as a wicker trunk and rug, like the inspiration pictures above. Of course I'll have to put my Free Stylin' stamp on things…so that means unusual uses for ordinary items. You'll have to come back and see what I mean!
I'm linking up!
My Uncommon Slice of Suburbia , A Bowl Full of Lemons, The Thrifty Home, Someday Crafts, Seven Thirty Three, Beyond the Picket Fence, House of Hepworths, Tales From Bloggeritaville, Made in a Day, Sassy Sites, Chic on a Shoestring Decorating, The Shabby Nest, Remodelaholic, Blue Cricket Design, Beneath My Heart, Lolly Jane Boutique, Be Different Act Normal, C.R.A.F.T., Thrifty Decor Chick, Funky Junk Interiors, Under the Table and Dreaming, House of Grace, Primitive and Proper, Sugar Bee Crafts, Home Stories A 2 Z, Domestically Speaking, Southern Lovely, Somewhat Simple, Love Notes By Lauryn
Pin It