K, so the other day I was reading a past issue of House Beautiful (Dec/Jan 2012), and I came across this beautiful peacock blue wingback chair:
Aerin Lauder is so freakin' lucky.
This chair is so gorgeous…I want to lick it. Seriously.
We still have ZERO furniture in our front living room. That's right. When people walk into our home there isn't any furniture in that room. Cuz we're whack jobs like that. The chair (well, at least something like it,) needs to be in that room. Like yesterday.
An internet search sent me to this Antony Todd chair:
Not only is the deep blue color just beautiful, I love the subtle texture, the nail head trim, and its curvy form.
I love you!

I found a few similar ones online as well.
Please move in with me!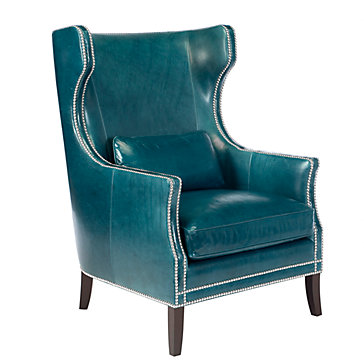 Of course there's no way in H-E-Double-whatever that I'm going to pay three easy payments of 14 billion dollars, plus my first born, for a chair. That just isn't going to happen. Luckily for me there is an AWESOME! (cue the birds singing) tutorial on how to paint your own thrift store, hand-me-down, you-can-keep-your-money-and-your-child, chair.
In peacock blue.
Check out the tutorial HERE.
I am so there. I can't wait to scour Craigslist and the GDub when I get home from our trip.
Also, I am beyond thrilled to say that the boys' bedroom is being featured on Remodelaholic today!! Can you believe it?! I about freaked when I got the e-mail. PLEASE take a sec to go check it out!! Here the link:
Boys Bedroom with Maps on Walls
Thanks SO much for the feature, Cassity!!