I'm excited about today's edition of How I Met Your Blogger because it involves two of my close in-real-life friends, Allison and Ben, of House of Hepworths. Allison and I have known each other since we were about 9 or so?, and Ben and I became good friends in the 9th grade. I moved away a few years later, so I wasn't around to see them fall in love, but it was quite the story around here. "Ben and Allison!!"
Here's the scoop:

Hey Free Stylin' readers! Allison here from House of Hepworths. I am so excited to be guest posting today on Beth's blog. I should do a post about how Beth and I met and became BFF's. Should I just go ahead and answer all the questions below about how she and I became inseparable? No? Fine, I'll stick with talking about how my better half and I met and fell in love. But trust me, Beth's and my BFF true love story is juicy, involves Ben, and contains tons of blackmail worthy photos from 1995. Maybe next time.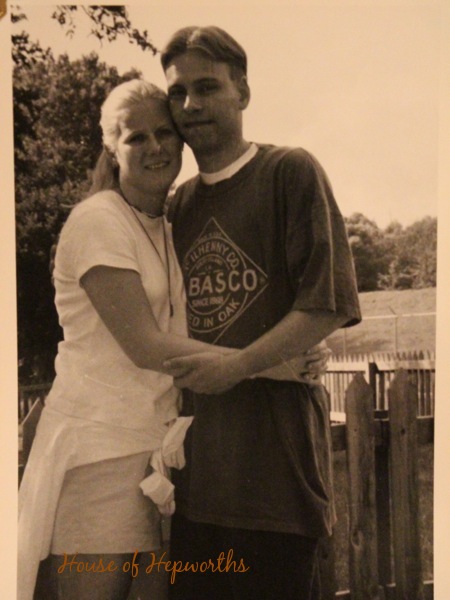 circa 1998
1. How long have you been together? How did you two meet?
Ben and I just celebrated our 14th wedding anniversary! I cannot believe we have been married so long. Time flies when you're having fun. Ben and I knew of each other pretty much our entire childhood but didn't actually know one another. We attended the same church growing up, and I was friends with his little brother. When I was a senior in high school Ben was living abroad in Russia. My parents went out of town for a week and had Ben's older brother and his wife come stay at the house and "babysit" us (My sister-in-law still teases me about that!). Truthfully, I went to school full time and also worked each day after school, so my parents hired my future sister-in-law and brother-in-law to stay with my younger siblings – get them up and off to school each morning, pick them up, all that jazz (that's what I tell myself at least. I hope my parents didn't need a sitter for me. I was 17 after all!). While the babysitters where there all week, I became quite good friends with her, and she suggested I send her younger brother-in-law an email to say hello. Apparently he was lonely and somewhat homesick. I sent him a letter saying hi, and he sent me one back. After that we emailed each week for the remaining 3 months until he came home. When he arrived back in the States we went on our first date and became exclusive immediately. Within a month of our first date we were engaged and three and a half months later we tied the knot. Everyone thought we were crazy, but here we are, 14 years later and happier than ever! (And in case you did the math, yup, I got married at 18. I was a wild little thing.).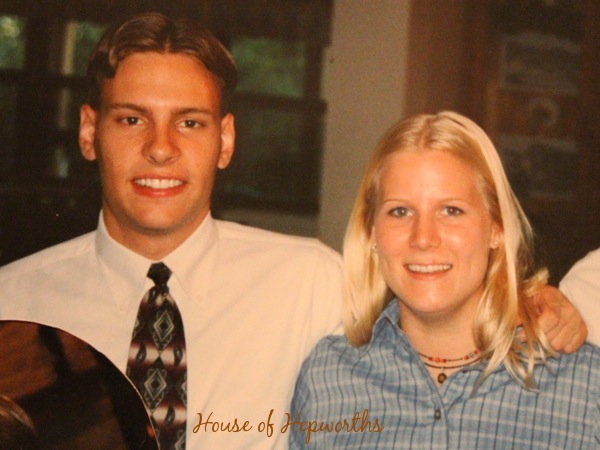 2. How did he (or you!) propose?
We had talked about getting engaged, so I knew it was coming, but Ben still tried to surprise me. One thing we use to love to do (before kids) was to go down to the train tracks, sit on the hood of the car, talk for hours, stare up at the dark sky and all the bright stars, and watch trains fly by. Not only could you feel the force of the train as it passed, but the chugging sound of the train as it whizzed by sounded so much more powerful in the dark and completely quiet of night. On one of our dates, Ben took me out to the old train station and we sat in the pitch black with only the moonlight and stars. We talked and talked for hours, and finally Ben pulled a ring out of his pocket, while sitting on the roof of his old teal mustang, and proposed. It reminded me of being in an older time, before computers and cell phones, before credit cards and video games. It's probably why I love movies like The Notebook and Fried Green Tomatoes so much.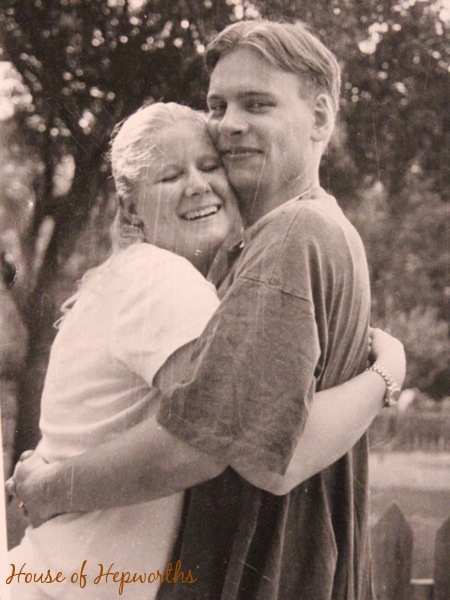 3. What was your wedding like? Any funny, special, or crazy stories about your big day?
I don't remember a lot about our actual wedding, except that is was apparently very cold outside (we got married in November). I wasn't cold at all though. The adrenaline had me sweating while taking pictures outside. Everyone else was standing around shivering with thick coats on. At our reception following the ceremony, we decided to just have a great time and forgo tradition. We hired a Jazz Band to play live music and it was so much fun! It was like being in New Orleans. At one point Ben busted out his accordion and started playing crazy songs while everyone danced like little monkeys banging cymbals together. Someone threw out a hat, and by the end of the impromptu accordion playing, we had made a couple bucks – which we spent on burgers afterward.
Of course, every wedding has some nightmare story, and mine was no exception. Two days before the wedding our cake lady called and backed out – she had to go out of town. I was left scrambling to find a wedding cake in two days! Our florist knew a baker, so I was fortunate enough to talk her into making the cake for us. We were charged a pretty penny, and she could only do a basic cake, but we took what we could get. When the cake arrived at the reception it was a nightmare. It was covered in globs of horribly piped cream-colored icing! (I was specific that I wanted white). Did I mention it was leaning? It looked like the leaning tower of Piazza. I almost started crying, but fortunately the florist was able to talk me off a cliff and spruced up the cake with a spatula and a bunch of extra flowers that she had brought. In hindsight, I laugh at how horrible that cake was! At least I have a good story now.
4. What do you love to do together?
We love to travel and go on vacation. We will take a road-trip at pretty much any opportunity that arises. Getting away together and just relaxing and spending hours talking sounds like a dream to me. We have traveled most of the USA together, and look forward to being able to travel abroad someday. We also really enjoy watching movies together and going out to eat way more often than we should – usually to our favorite Tex-Mex restaurant, Chuy's. We don't do it often enough, but we love a good long hike or bike ride. We pretty much enjoy anything that we can do together while being able to have good conversation with one another. Now that we have kids, our family is our first priority, so we just love doing anything where we can be together. Our favorite thing to do together in two words? ROAD TRIPS.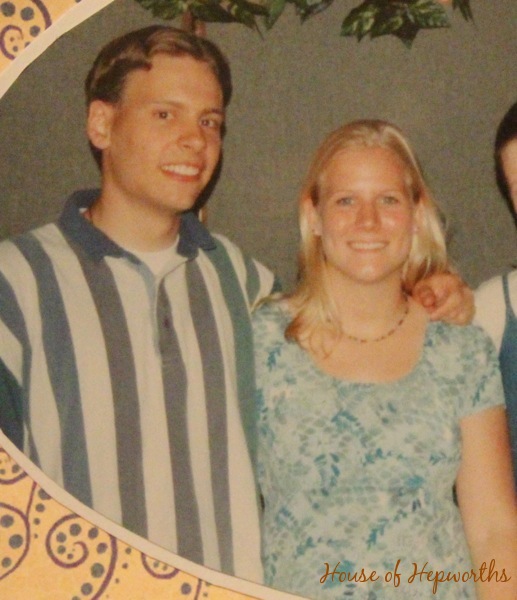 5. What's your favorite thing about him? What's his favorite thing about you?
Ben is hilarious. He has a very dry sense of humor and will sit in the background totally silent and then all of a sudden will say something under his breath that most people totally miss. But if you actually listen to his quiet one-liners, you will crack up. He likes to be the quiet guy who will randomly drop the most hilarious joke ever. Also, he can be shy around other people, but when we are alone together, or with just the kids, he will turn into a complete goof-ball. He has amazingly terrible accents that make me pee my pants and pretty much leaves me and the kids in stitches on a daily basis. When he doesn't have the stress of work and life, he is pretty much a walking goof-ball 100% of the time – I think this is why I love vacationing so much with him. His true un-stressed personality comes out and it keeps us all in stitches. He does a terrible impression of Captain Jack Sparrow that the kids beg for on a daily basis, and his Russian accent impersonation will give you aches from laughing so hard. One time he decided to learn how to speak in a British accent and studied it for hours in the car while we were on a road trip. I have never laughed for so many hours straight in my life. To this day when he does a British accent it sounds like an Irish accent crossed with a dying cat.
What does Ben like about me? I asked him and I can't repeat his response online. This is a PG rated blog. At least he still finds me attractive after all these years! Ha! After more prodding, he said one thing he really likes about me is my take-control attitude. I like to figure things out and move full-steam ahead on whatever project I'm working on. I think he mentioned the word "fearless". You know what all the tweens say these days… YOLO! Does anyone else find that as annoying as I do?
So anyway, that is Ben and my love story. Sappy? Check. Young and fearless? Check. It's been a great 14 year ride so far and we both look forward to 50 more.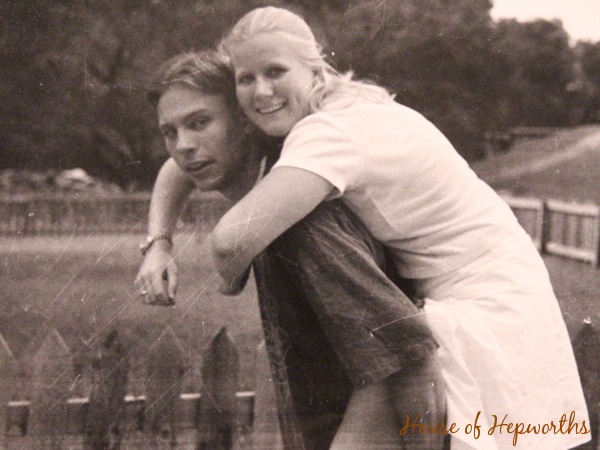 Thanks for having me today Beth. This was a really fun walk down memory lane. I haven't sat and thought about our love story in a very long time, and it was thrilling and refreshing to remember it all again. Looking through the photo albums to gather pictures of us dating was the most fun of all! Man, what I would give to look as good as I did at 18. No amount of dieting will give me that youthful glow again. Ah to be young and pretty and completely clueless about it.
*****************************************************************
K, I've known y'all for how long, and I learned some things I had never known!! What a cute engagement story!! And I sincerely appreciate you not sharing pictures of us in the early '90′s. My hair alone would frighten small children.
Thanks, Ben and Allison! Hook 'Em!
Pin It