K so sometimes my Free Stylin' ways aren't always the prettiest. Case in point: storage in the boys' closet. I used empty diaper boxes to keep their clothes organized, and even though it is a FREE fix, the look was….haphazard. Yep. That's a good word for it. Not many people say haphazard these days, but that's exactly what it was.
Yes, it worked, but it wasn't my fave. Didn't love it. I wouldn't have sent a picture like this to my mom. Caption: "Hey Mom! Your grandkids have storage. In the closet. Super." Plus, she lives like 10 minutes away, so she probably would have thought I was a bit nutty for sending the picture to her in the first place. Her response: "Umm, that's great Betty (she calls me Betty…short for Bethie). But, um, I saw this at your house the other day. Could you, please sweetie, not send me pictures like this? It costs me 45 cents for each text."
Yeah. So, no. Not a closet to "write home about."
But of course there are lots of beautiful inspiration pictures of organized closets and cute baskets and smart storage solutions all over the internet. I found the following two pictures from my friend Natalie at The Organized Mom (she also blogs at Natalme.com)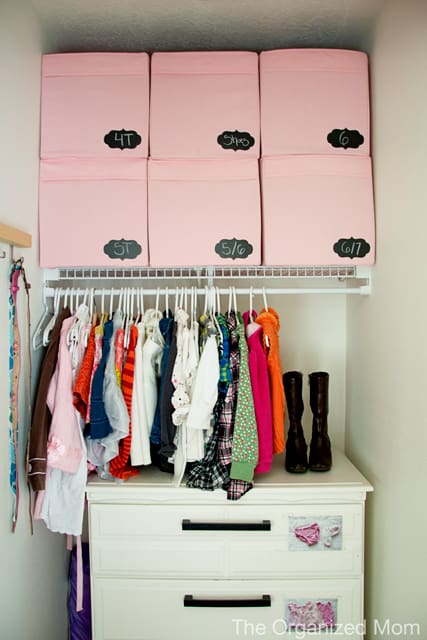 and Lindsay at Southern Lovely.
Both pictures got the wheels in my head turning to kick the boys' clothes organization up a notch. (P.S. And yes, I have seen people decorate their diaper boxes, and those are super cute, too, but I didn't feel like it. Laziness, people. Sheer laziness.)
I gathered my supplies at Wally World: 8 white plastic bins, 20 paint samples from their paint department, and some adhesive mounting squares. 
I loved that Lindsay used bins from the dollar store, and that was my goal originally. But my dollar store didn't have bins big enough to store clothes. So I moved on over to Wal-mart because they usually have the next least expensive option. Each bin was just under $3.
In order to label the bins, I needed some paint chips and a craft cutter. The paint chips were FREE. (Yes, I know some people don't agree with that. Some think we shouldn't be taking those paint samples. Well, I'm not one of them. If you like free paint samples, come sit by me.) I chose orange and blue – colors that coordinate with Pickle and J's room. When picking out the samples, I was a bit anal made sure the colors were the same value and tone.
My knock-your-socks-off-due-to-awesomeness friend, Tara, has a Cricut machine and let me come over one night to play. We cut out numbers and letters for the bins using the sizes of baby/toddler clothes I needed to store:
This CAN be done using a stencil or freehand if you don't have a cutting machine (like me). Or you could always use my Glad Press n' Seal method (HERE), too.
Once the numbers were cut, I adhered them using adhesive mounting squares. I like how the squares make the numbers and letters stick out…a little more 3D if you will. And I will.
Next was adding all the boys' clothes. Which was so fun. Because a walk down "baby memory lane" is always a good time. Look at these cute shoes! Can't believe my boys were once so small. Can't believe they aren't that small anymore.
I put the clothes in vacuum seal bags we already owned to keep things clean and dust free.
And here is the completed, organized, send-a-picture-to-my-mom-worthy closet:
Pretty cute, right? And organized. I love me some organized.
The cost breakdown:
storage bins (just under $3 x8): $24
paint samples: FREE
adhesive mounting squares: $1
vacuum seal bags: already owned
Total: $25
And, yes, Pickle's dresser is still in its "Before" state. I haven't decided what color to paint it, so it stays functional in the closet. Someday, peeps. That post is coming. I promise…as soon as I move past painting every dresser in the house blue (like this one and this one).
Suggestions welcome.
I'm linking up!
My Uncommon Slice of Suburbia , A Bowl Full of Lemons, The Thrifty Home, Someday Crafts, Seven Thirty Three, Beyond the Picket Fence, House of Hepworths, Tales From Bloggeritaville, Made in a Day, Sassy Sites, Chic on a Shoestring Decorating, The Shabby Nest, Remodelaholic, Beneath My Heart, Lolly Jane Boutique, Be Different Act Normal, C.R.A.F.T., Thrifty Decor Chick, Funky Junk Interiors, Under the Table and Dreaming, House of Grace, Primitive and Proper, Sugar Bee Crafts, Home Stories A 2 Z, Domestically Speaking, Southern Lovely, Somewhat Simple, Love Notes By Lauryn, A Thoughtful Place
Pin It